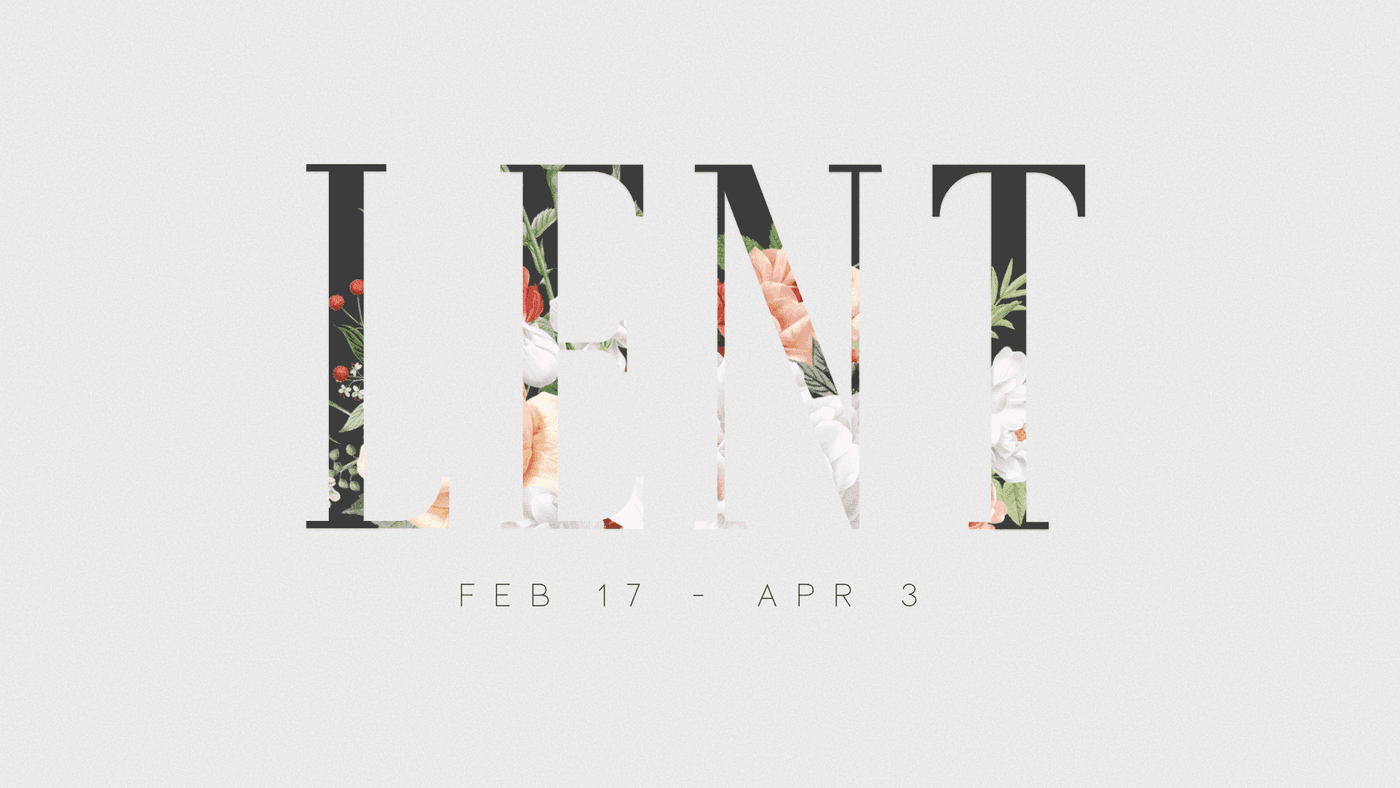 For the past few years, we have spent three weeks in January participating in 21 days of prayer and fasting, to refocus at the start of the year and see what God has planned for us.
Rather than doing the 21 days in January, we will be putting our focus on Lent which starts on Feb 17 and runs until April 3rd. Lent has been practiced in all sorts of christian traditions for centuries, and commemorates Jesus' 40-day fast in the wilderness following his baptism.
We would encourage you to incorporate two aspects of Lent this year, individual and corporate:
Individual Lenten Fast:
A traditional Lenten fast is to fast something for the 40 days that typically gives you joy or consumes your time. Examples may be sweets, social media, or television/movies/youtube. Give up something that you enjoy. In giving it up, allow yourself to feel it's absence as a reminder of how God has blessed your life as well as an act of empathy for those who have less.
Communal Lenten Fast:
For a communal Lenten fast, On each Thursday, we will be engaging in a 24-hour, water only fast as a church. It'll be from 6pm on Wednesday night to 6pm on Thursday night. We will spend this time praying for specific moves of God we want to see in our community. and we will be praying through a different scripture passage based out of the book of common prayer. as well, we'll use these days to provide space to be in God's presence and receive prayer from one another. We know that everyone has different health restrictions and different levels of experience, so join in however you can, if that's skipping a couple meals or fasting just from Thursday morning until 6pm, do what you can to join us.
Learn about fasting:
If you are curious about fasting, we would recommend the book "Fasting" by Scot McKnight. It's short, it's an easy read, and will really explain what biblical fasting is and why we do it.
In-person Prayer & Worship Nights:
As we prepare to be back to indoor services this spring, each Thursday night, we will have a time of prayer and worship at the church from 7pm to 8pm! They will be masked and social-distanced, and there will be a max of 50 people, so you can pre-register for one or two of them now below!
We are so excited to seek God together as a community and see all that he has in store for us in 2021.
Weekly Prayer Focuses
CONFESSION (2/17)
Prayer Points
Pray through the written prayer.
Pray through personal convictions that come to your mind. What has God been pressing on in your life? What do you need to confess? What have you taken for granted?
Pray through corporate convictions. What sins of the world are weighing on you? Injustices and moral failures of the wider Church, the state, our nation?
Reflect on the merciful nature of God as revealed in Joel and lean into his forgiveness and appreciate his grace.
Who do you need to confess to that requires your forgiveness that you have been withholding?
Joel 2:2-17 (ESV)
""Yet even now," declares the Lord, "return to me with all your heart, with fasting, with weeping, and with mourning; and rend your hearts and not your garments." Return to the Lord your God, for he is gracious and merciful, slow to anger, and abounding in steadfast love; and he relents over disaster. Who knows whether he will not turn and relent, and leave a blessing behind him, a grain offering and a drink offering for the Lord your God? Blow the trumpet in Zion; consecrate a fast; call a solemn assembly; gather the people. Consecrate the congregation; assemble the elders; gather the children, even nursing infants. Let the bridegroom leave his room, and the bride her chamber. Between the vestibule and the altar let the priests, the ministers of the Lord, weep and say, "Spare your people, O Lord, and make not your heritage a reproach, a byword among the nations. Why should they say among the peoples, 'Where is their God?'""
Prayer
Almighty and everlasting God, who hates nothing that you have made, and forgives the sins of all them that are repentant: Create and make in us new and contrite hearts, that we worthily lamenting our sins, and acknowledging our wretchedness, may obtain of you, the God of all mercy, perfect remission and forgiveness; through Jesus Christ our Lord. Amen.

HOLINESS (2/24)
Prayer Points
Pray through the written prayer.
Recognize ways in which God is holy and different from us and thank him for his holy righteousness.
Thank God for his Son, Jesus, in whom our holiness resides.
Ask for the strength to persevere in a lifestyle that is different from the dominant culture that we live in.
Birth a love of the Kingdom and its different pace from our modern world.
Seek a love of and set a time for silence and solitude.
Pray through a desire to live simply and at a slower pace.
2 Corinthians 6:1-10 (ESV)
"Working together with him, then, we appeal to you not to receive the grace of God in vain. For he says, "In a favorable time I listened to you, and in a day of salvation I have helped you." Behold, now is the favorable time; behold, now is the day of salvation. We put no obstacle in anyone's way, so that no fault may be found with our ministry, but as servants of God we commend ourselves in every way: by great endurance, in afflictions, hardships, calamities, beatings, imprisonments, riots, labors, sleepless nights, hunger; by purity, knowledge, patience, kindness, the Holy Spirit, genuine love; by truthful speech, and the power of God; with the weapons of righteousness for the right hand and for the left; through honor and dishonor, through slander and praise. We are treated as impostors, and yet are true; as unknown, and yet well known; as dying, and behold, we live; as punished, and yet not killed; as sorrowful, yet always rejoicing; as poor, yet making many rich; as having nothing, yet possessing everything."
Prayer
O Lord, who for our sake did fast forty days and forty nights: Give us grace to use such abstinence, that, our flesh being subdued to the Spirit, we may ever obey your godly motions in righteousness and true holiness, to your honor and glory, who lives and reigns with the Father and the Holy Ghost, one God, world without end. Amen.

SANCTIFICATION (3/3)
Prayer Points
Pray through the written prayer.
Reflect on the character of Jesus. What makes him so loving, gentle, and kind?
Ask for a desire to grow in character more and more like Jesus Christ, our savior.
Pray for God to reveal an area of your life that you have yet to hand over to Him, and for the courage to trust Him with it.
Meditate on the fruit of the spirit (Galatians 5:22) and ask the Holy Spirit to focus your attention on 1 or 2 you are naturally gifted toward and 1 or 2 you are weak in. Do not seek these fruit, but seek the presence of God who will grow this character in you.
Practice the prayer of John that, "I would decrease as he would increase."
Practice the prayer of Paul that "your love will overflow more and more, and that you will keep on growing in knowledge and understanding."
1 Thessalonians 4:1-8 (ESV)
"Finally, then, brothers, we ask and urge you in the Lord Jesus, that as you received from us how you ought to walk and to please God, just as you are doing, that you do so more and more. For you know what instructions we gave you through the Lord Jesus. For this is the will of God, your sanctification: that you abstain from sexual immorality; that each one of you know how to control his own body in holiness and honor, not in the passion of lust like the Gentiles who do not know God; that no one transgress and wrong his brother in this matter, because the Lord is an avenger in all these things, as we told you beforehand and solemnly warned you. For God has not called us for impurity, but in holiness. Therefore whoever disregards this, disregards not man but God, who gives his Holy Spirit to you."
Prayer
Almighty God, who sees that we have no power of ourselves to help ourselves: Keep us both outwardly in our bodies, and inwardly in our souls; that we may be defended from all adversities which may happen to the body, and from all evil thoughts which may assault and hurt the soul; through Jesus Christ our Lord. Amen.

REVIVAL (3/10)
Prayer Points
Pray through the written prayer.
Pray for a move of the Holy Spirit in your life: a greater love for God and a greater desire to see His Kingdom come.
Pray for a move of the Holy Spirit among your family and friends: relationships strengthened and restored, and love and grace abounding in our communities.
Pray for a move of the Holy Spirit in the Church: that we would see people passionately following God and worshipping Him.
Pray for a move of the Holy Spirit in the world: that we would see people come to know and love God, and we would see our world look more like the Kingdom of Heaven.
Ephesians 5:1-14
"Therefore be imitators of God, as beloved children. And walk in love, as Christ loved us and gave himself up for us, a fragrant offering and sacrifice to God. But sexual immorality and all impurity or covetousness must not even be named among you, as is proper among saints. Let there be no filthiness nor foolish talk nor crude joking, which are out of place, but instead let there be thanksgiving. For you may be sure of this, that everyone who is sexually immoral or impure, or who is covetous (that is, an idolater), has no inheritance in the kingdom of Christ and God. Let no one deceive you with empty words, for because of these things the wrath of God comes upon the sons of disobedience. Therefore do not become partners with them; for at one time you were darkness, but now you are light in the Lord. Walk as children of light (for the fruit of light is found in all that is good and right and true), and try to discern what is pleasing to the Lord. Take no part in the unfruitful works of darkness, but instead expose them. For it is shameful even to speak of the things that they do in secret. But when anything is exposed by the light, it becomes visible, for anything that becomes visible is light. Therefore it says, "Awake, O sleeper, and arise from the dead, and Christ will shine on you.""
Prayer
We petition you, Almighty God, look upon the hearty desires of your humble servants, and stretch forth the right hand of your Majesty, to be our defense against all our enemies; through Jesus Christ our Lord. Amen.

FREEDOM (3/17)
Prayer Points
Pray through the written prayer.
Ask that your allegiance would be changing from sin and shame to the will of Jesus.
Pray for those who are struggling to break free from addictions to substances and behaviors that hold them in bondage to sin and shame.
Pray for those who are held in captivity throughout the world to all kinds of human trafficking.
Pray for a spirit of freedom in all who call themselves followers of Jesus. May we lay down our individual wills for the greater will of Christ Jesus our King.
Galatians 4:21-31
"Tell me, you who desire to be under the law, do you not listen to the law? For it is written that Abraham had two sons, one by a slave woman and one by a free woman. But the son of the slave was born according to the flesh, while the son of the free woman was born through promise. Now this may be interpreted allegorically: these women are two covenants. One is from Mount Sinai, bearing children for slavery; she is Hagar. Now Hagar is Mount Sinai in Arabia; she corresponds to the present Jerusalem, for she is in slavery with her children. But the Jerusalem above is free, and she is our mother. For it is written, "Rejoice, O barren one who does not bear; break forth and cry aloud, you who are not in labor! For the children of the desolate one will be more than those of the one who has a husband." Now you, brothers, like Isaac, are children of promise. But just as at that time he who was born according to the flesh persecuted him who was born according to the Spirit, so also it is now. But what does the Scripture say? "Cast out the slave woman and her son, for the son of the slave woman shall not inherit with the son of the free woman." So, brothers, we are not children of the slave but of the free woman."
Prayer
Grant, we petition you, Almighty God, that we, who for our evil deeds do worthily deserve to be punished, by the comfort of your grace may mercifully be relieved; through our Lord and Savior Jesus Christ. Amen.
REDEMPTION (3/24)
Prayer Points
Pray through the written prayer.
Sit in reflection of the price paid by Jesus Christ to purchase your redemption from sin. Our redemption was earned by the life of our savior.
Pray for the conviction, confession, repentance, and redemption of those who are without Christ. That they would know their sin, but know more powerfully the love of Jesus.
Seek the redemption of the Church in our time that what we offer in our brokenness would be redeemed and used for the Glory of God by His Spirit.
Ask the Holy Spirit to fill you with creative joy to see what opportunities and resources around you can be redeemed and used to lead people to Jesus and share the love of God to his children.
Hebrews 9:11-15
"But when Christ appeared as a high priest of the good things that have come, then through the greater and more perfect tent (not made with hands, that is, not of this creation) he entered once for all into the holy places, not by means of the blood of goats and calves but by means of his own blood, thus securing an eternal redemption. For if the blood of goats and bulls, and the sprinkling of defiled persons with the ashes of a heifer, sanctify for the purification of the flesh, how much more will the blood of Christ, who through the eternal Spirit offered himself without blemish to God, purify our conscience from dead works to serve the living God. Therefore he is the mediator of a new covenant, so that those who are called may receive the promised eternal inheritance, since a death has occurred that redeems them from the transgressions committed under the first covenant."
Prayer
We petition you, Almighty God, mercifully to look upon your people; that by your great goodness they may be governed and preserved evermore, both in body and soul; through Jesus Christ our Lord. Amen.

HUMILITY (3/31)
Prayer Points
Pray through the written prayer.
Ask God to reveal where your attitude is different from that of Jesus and seek the Holy Spirit to humble your heart.
Pray for a full view of God's greatness: his infinite majesty and power, that we are as the dust of the earth in comparison to him. But even so, he loves us greatly. (Reference Psalm 8.)
Pray for the view of others that Christ had. To give more attention and time to their needs than our own.
Ask for wisdom and grace to seek out the best for others in your life. How can you become their advocate for love and joy? Seek God on their behalf.
Be reminded that all we have in Christ was given and not earned. Thank God that we are a part of his family by the quality of his character and not ours.
Philippians 2:5-11
"Have this mind among yourselves, which is yours in Christ Jesus, who, though he was in the form of God, did not count equality with God a thing to be grasped, but emptied himself, by taking the form of a servant, being born in the likeness of men. And being found in human form, he humbled himself by becoming obedient to the point of death, even death on a cross. Therefore God has highly exalted him and bestowed on him the name that is above every name, so that at the name of Jesus every knee should bow, in heaven and on earth and under the earth, and every tongue confess that Jesus Christ is Lord, to the glory of God the Father."
Prayer
Almighty and everlasting God, who, of your tender love towards mankind, has sent your Son our Savior Jesus Christ, to take upon him our flesh, and to suffer death upon the cross, that all mankind should follow the example of his great humility: Mercifully grant, that we may both follow the example of his patience, and also be made partakers of his resurrection; through the same Jesus Christ our Lord. Amen.